Savannah Bucket List & Why You Should Add It To Your List!
I now have a new Top 5 towns that I love, Savannah! We only spent a day and a half but it was amazing! My first major was Marine Biology but History was also a love and history was what we were immersed in this trip.
We stayed at a quaint Inn and while it wasn't the perfect stay, it was beautiful. So why should you add Savannah to your bucket list?
Savannah's Squares! There are 22 total and all are unique and tell a story. They are like small parks that stay green year round. We walked 19 of the 22 and wow we were tired! You will see Chippewa Square, which features a bronze statue of Savannah founder General James E Oglethorpe. It also happens to be where Forrest sat in Forrest Gump! The bench is gone but you can still sit a spell in one of the many benches and think about life and how it is like a box of chocolates. The bench is in Savannah's History Museum if you want to get indoors.
River Street is another area of beautiful views and architecture. The famous cobblestone streets and steep stairs make you feel like you are in the past and can imagine horse drawn carriages.
We stayed a block away from Forsyth Park which is a 30-acre park in the heart of town. It is one of the most photographed spots in Savannah and is truly gorgeous.
The Inn we stayed at is on Jones St. It has been called "The prettiest street in America" and that it is! Lined with towering trees, Greek Revival homes and 19th century architecture it is picturesque and deserving of the title.
Another love of mine is old churches and Savannah is packed with them! We were not able to go in and tour any of them but the outside was still worth visiting. The Cathedral of St. John the Baptist is an architectural gem! It is the older Roman Catholic church in the state. When there isn't a service you can take a self-guided tour and view the soaring steeples, arches, amazing stained glass, ornate murals and Italian marble. Savannah is home to one of the first African Baptist churches in the US. The holes in the sanctuary flooring form a design meant to look like a tribal symbol. These were air holes for escaped slaves who would hide in the church which serves as a stop on the Underground Railroad.
Now I don't do ghost tours and such but if you are into that Savannah's the place to go! There are tails of ghost that haunt the cemeteries to homes. Which brings me to our next must see! The Bonaventure cemetery is stunning. The azalea's and statues are worth a stroll. We went early in the morning before the heat and being on the river made for a relaxing morning. Some of you may remember a book call Midnight in the Garden of Good and Evil? Well a very famous piece was housed at the cemetery but was moved into the museum in the last few years. I didn't get to see it but the other monuments and headstones were amazing to take in. We also walked the Colonial Park cemetery which was founded around 1750.
The food scene is also impressive for the foodies out there. We had dinner at Vic's On The River the first night and Belfords Savannah Seafood and Steaks the next. Both were absolutely delightful from appetizers to dessert with mixed drinks and beer in the middle. There is a ton of restaurants to choose from at City Market. The four-block pedestrian only market is home to restaurants, shops, live music and a large collection of art for sale. We also stopped for ice cream at Savannah's Original Candy Maker.
We stayed at the Eliza Thompson House which was a beautiful period piece inn that is decorated as such. Built in 1847, this was the first house constructed on Jones Street and one of the finest homes in Savannah. While I enjoyed the period piece furniture, I was not a fan of the period piece mattress. Unfortunately we did not sleep well which was depressing since we rarely get to sleep a full night because of our 3 year old. The springs were literally sticking out of the mattress side that is how dated it was. The one of two breakfasts that we were served was under-cooked but we ate what we could and went about our day. The next morning they must have been understaffed and it showed. We sat waiting for breakfast for 40 minutes until we made the decision to go ahead and get on the road to beat traffic. I expressed my disappointment to the host and they did make it right but I was still disappointed after reading such wonderful reviews prior to booking.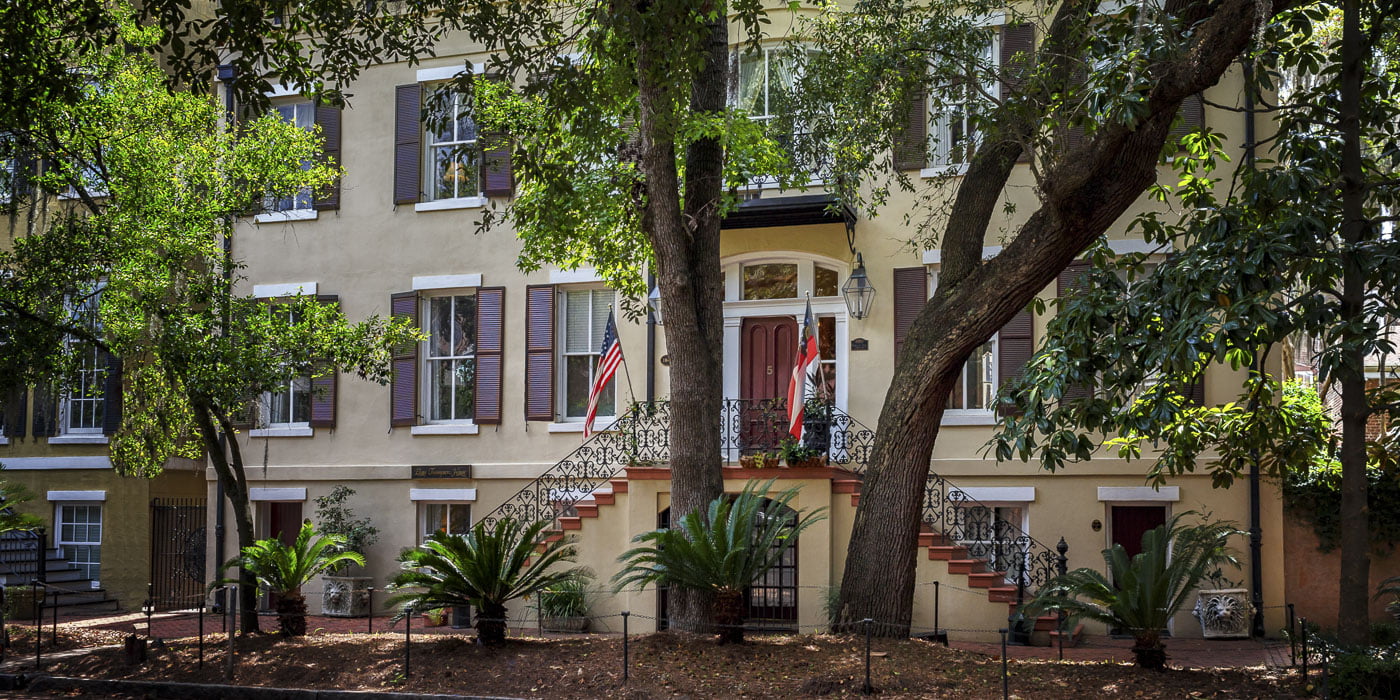 We didn't get to go to Wormsloe plantation which is on my list for next time! You would know it again from a scene where Jenny is yelling at Forest to run!  I know movie geek! I could add so many more things to do as a day and a half is not nearly long enough! Oh we also popped over to Tybee to see the lighthouse! While we didn't get to get down to the beach as it was packed, I don't think Tybee will be the spot for me. Hilton Head is the next scheduled trip!
I hope you add Savannah to your list and find it as wonderful as I did!