Summer Series: Must Do In My State, Colorado!
Colorado, one of the greatest vacation destinations in the world! We had the pleasure of living there for four years and we loved every minute of it! We moved back to the East Coast last year so our little one could grow up with family but will definitely take him back to his birthplace and let him enjoy some of the great things we did while there.
So there are the typical things that are a must do, but there is so much that is overlooked if you aren't a local. This list combines the local spots as well as the touristy but in my mind are amazing and totally worth it!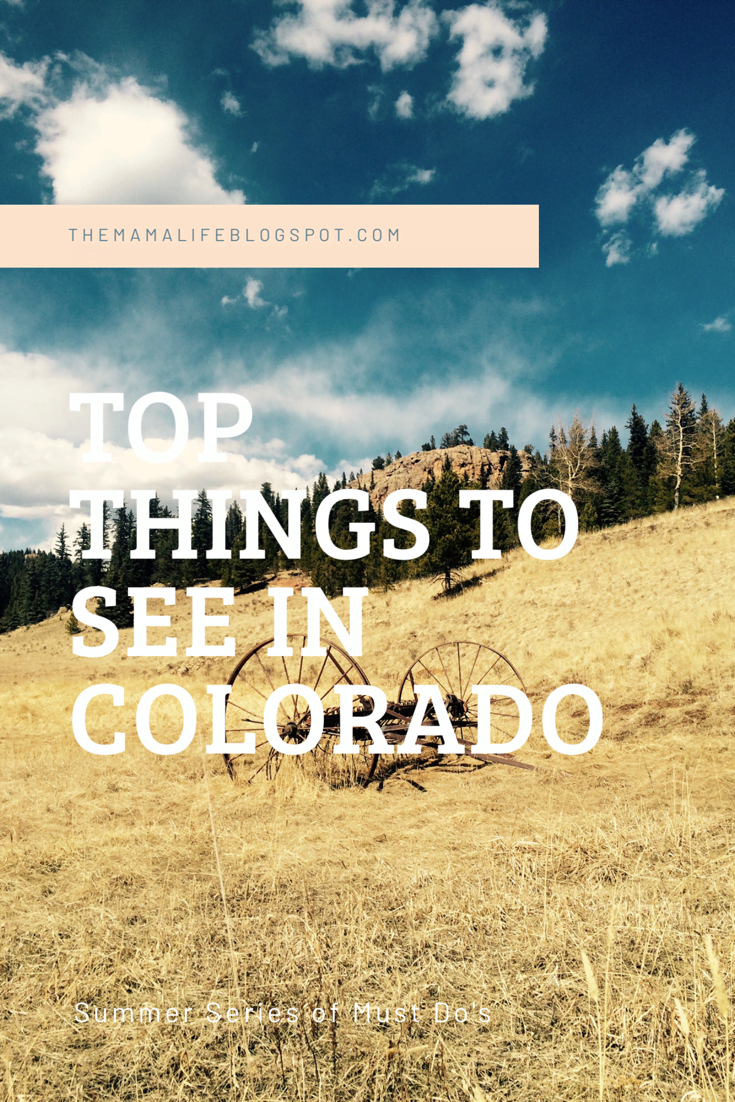 Hike a 13'er: Yes everyone talks about 14'er's but did you know that Colorado is also home to 832 Summits above 13,000 feet, of which 637 are hard ranked and 46 are soft ranked.
Colorado has 759 summits between 13,000 and 13,999 feet, of which 584 are hard ranked and 45 are soft ranked. One of our first was the Arapaho Glacier Trail. It was 13 miles round trip and though exhausting the payoff was amazing! Here is a great list of 13'er's to choose from! Remember altitude is a serious risk when hiking any of the 13'er's etc. Be prepared! Drink lots of water and take dark chocolate with you. You will notice in my pictures the layer of clothing changes that happen during your hike as well. It gets cold!

Trail Ridge Road: Once it has been dug out, yes dug out, in the spring this is a must do drive. Located in Rocky Mountain National Park you will drive a 48 mile road between Estes Park on the east side to Grand Lake on the west. (most of the Moose are on the west). Eleven miles of the highway is above treeline! That means elevation 11,000′ or more. It is amazing once you get to the top! The shop and restaurant have oxygen pumping in if you are feeling light headed.

Moose Spotting on Trail Ridge: We always saw more Moose on the west side of RMNP. They are my favorite and so amazing to see.

Mt. Evans: If you want to see a 14'er without having to hike it, you are in luck! Mt. Evans takes you almost to the top via a car ride. You will have to hike a bit to get to the very top!

Drive Peak to Peak: If you want a relaxing drive this is it! The Peak to Peak highway is 55 miles of absolute beauty! You will have plenty of opportunities to pull over for pictures and be sure to stop at Saint Catherine's Chapel. It is one of a kind!

Beer at Pick one!: Colorado is a mega microbrewery wonderland! If you like beer you will find a spot on any corner! If you are downtown stop at Denver Beer Co. and have one of my favorites, the Graham Cracker Porter! It is s'mores in a can goodness and I promise you will love it!

Boulder Street Performer Show: Pearl Street is a world of its own and the performers are amazing! Take a few hours to stop in, you will be entertained!

Rocky Mountain National Park: Home of Trail Ridge Road and some of the best hiking trails and waterfalls there is. The Continental Divide is a fun photo op along with the aspen trees and rivers. Bear Lake offers pristine views of the peaks.
Paint Mines Interpretive Park: One of the most unique places I have been to. You will literally drive for what feels like forever in the flattest land possible to find an opening with these amazing rock formations! It is approximately 750 acres of amazing colorful clay's that were collected by American Indians to paint.

Royal Gorge Bridge: If you are afraid of heights I do not recommend, but if you are an bit of a thrill seeker this is for you! You can walk the bridge or ride on the gondola to cross. The bridge is America's highest suspension bridge with amazing views! There is also a railroad if you prefer to do the gorge below.

Georgetown Christmas Train: We took the family on this and had such an amazing time! The train runs in the summer but the Christmas ride is magical.

Ski Copper: Copper was our go to mountain! Most of the locals hang there or Love. The lines are typically shorter and the runs are great! Take the Tucker Cat to get to the bowls! Our new puppy is named after Tucker Ridge. 🙂

Ski Crested Butte: One of the best and greatest ski trips ever. CB holds a place in my heart like no other and it is worth the trip. The slopes are amazing, the town is amazing, the food is amazing and guess what the people are amazing! If I ever retire in a ski town, this will be the one!

Ski Loveland: Atop the Continental Divide, Loveland offers a ski experience like no other. 1,800 acres of terrain and 94 trails will definitely give your ski legs a run. The highest summit is 13,010 and the views are phenomenal!

Waterfalls: Of course I was going to put waterfalls! I am a waterfall junkie so this is a must! There are a few accessible in RMNP with a shorter hike.

Concert at Red Rocks: Even if you don't catch a concert go! You can hike and check out the coolest open-air amphitheater ever! We saw Joe Bonamassa there and it was amazing!

If you are in Westminster and need a spot for the kids to burn some energy stop at KidSpace! An indoor children's playground combined with a hands on STEM museum. My little one loved it and is perfect for days you need to be inside!
Another must do that is dear to my heart is The Wild Animal Sanctuary. The Wild Animal Sanctuary currently operates two sites within Colorado totaling more than  Ten Thousand Acres!  They rescue animals from horrific captive situations and rehabilitate them so they can live and roam freely within large natural habitats with others of their own kind. It is an amazing learning experience that all ages will love.
Watch a game at Coors Field: One of the prettiest stadiums I have been to and the nights with fireworks are so fun!
Cave of The Winds: History books might show Colorado's own Cave of the Winds as being discovered 147 years ago, but the caves are actually millions of years old! As early legends of over a thousand years ago tell, the Jicarilla Apaches told of a cave near Manitou Springs where the Great Spirit of the Wind resided.
Go Camping! There are so many wonderful spots to camp I can't even begin to list them all. Again I use TheDyrt to look for our camping spots and I have never been disappointed.
South Park! Yes it is the South Park. I am all about cheesy hokey so of course! It is located in Fairplay and if you have time take a trip.
I could add so much more to this list as this is barely scratching the surface! These are some of the things we enjoyed in our 4 years there and I hope you get to go to!
The Mama Life