Raising Healthy, Happy Kids: Simple Steps For Busy Parents
Raising children is one of the greatest privileges, but it's also one of the most challenging tasks we take on. As parents, it's natural to want the best for our kids, but it's not always easy to promote healthy living and achieve a balance between parenting and other commitments. If you feel like you're swimming against the tide and you're not living up to the image of perfection presented by social media, don't panic. In this guide, we'll explore some simple steps you can take to raise healthy, happy children.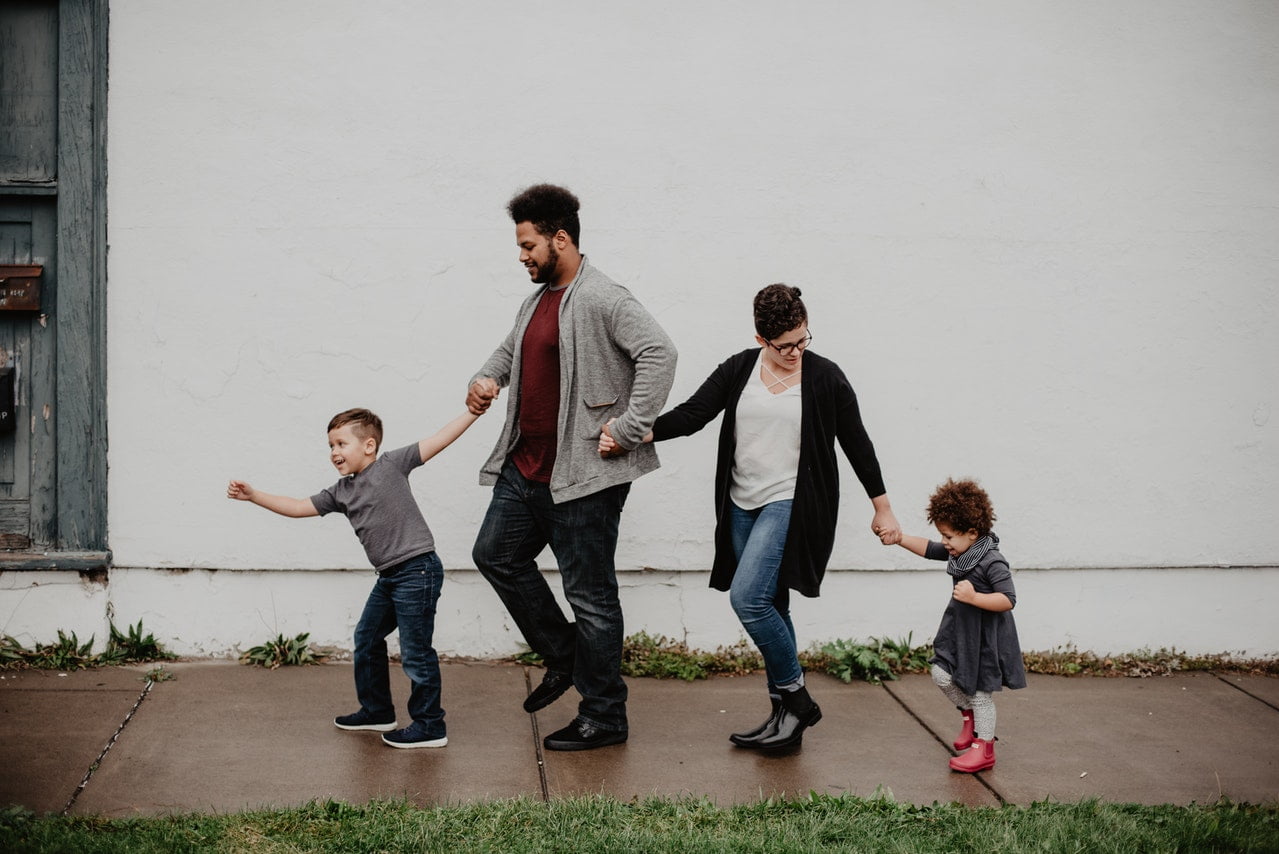 Picture courtesy of https://www.pexels.com/photo/family-of-four-walking-at-the-street-2253879/
Active living
Being active is beneficial for all age groups. Regular exercise helps to lower the risk of physical and mental health conditions and it also makes you feel good. Try to encourage active pursuits from an early age, exercise together as a family and talk to your children about the benefits of moving their bodies. Have fun with exercise. There are all kinds of activities you can enjoy alone, with your partner or with your kids. Go to dance classes, do yoga together, take the dog for a walk every day or plan bike rides or gentle hikes in the great outdoors at the weekend.
Exercise is helpful for boosting mental health and strengthening the body, but it's also a brilliant way to meet new people and have fun. If you're eager to make new friends or get your children involved in sports at schools, look out for classes, after-school clubs and local teams looking for new recruits. Playing sports can also teach children and adults valuable life lessons, such as working as a team, learning to win and lose gracefully and playing by the rules.
If you're new to exercise, and you have a relatively sedentary lifestyle, it's a great idea to start with manageable targets. Try to cover a certain number of steps every day or book a couple of beginners' classes every week. You can set individual and family goals.
Image source: https://www.pexels.com/photo/girl-in-red-jacket-riding-bicycle-5792907/
Eating well
Your diet is essential for optimum health and well-being. It's not always easy to get kids to eat healthily, but there are ways to make nutritious foods more appealing. One idea is to make your plates look fun. You won't have time to create Instagram-worthy meals every day, but using vegetables to make fun shapes or animals, for example, is an excellent way to make healthy food more attractive to young children. Try to vary the ingredients you use, introduce kids to a wide range of fruit and vegetables at an early age, and get your kids involved in cooking and preparing meals. If they help out in the kitchen, they may be more likely to give a homemade feast the thumbs up.
It can be hard to provide delicious, home-cooked meals every day when you're on the go. Parents often feel under pressure to try to spin hundreds of plates at the same time. There's no need to feel guilty if you resort to the odd simple meal or takeout from time to time, but there are some simple strategies you can use to save time. Try batch cooking, look for quick and easy recipes online and prepare food in advance to make dinner time less stressful.
Try to set a good example for your kids. Many of us think about our diet in terms of weight loss. Losing weight can be beneficial for good health, but it's more important to focus on nutrition when you plan your meals and choose ingredients. Aim for a good mixture of foods and plates that contain ingredients from all the major food groups. Talk to your kids about the benefits of eating healthy foods and encourage them to take an interest in cooking.
Supporting learning and development
Parents play an incredibly influential role in their child's learning and development. Every parent wants to help their kids to learn new skills and expand their knowledge base, but it can be tough to find the time and energy to teach kids at home or to engage in educational activities in your downtime. Don't put pressure on yourself to be a full-time teacher and mentor as well as a parent, and recognize the value of different types of learning. Experiences you enjoy with your children, for example, can teach them a lot. Spending time in nature, going to museums and galleries, visiting wildlife parks, zoos and farms, going on vacation and exploring, visiting friends and family and engaging in community life can all teach children valuable lessons.
It's also a fantastic idea to make use of online resources like lesson plans and printable activities and exercises to help your children to learn at home and cover different subjects away from the classroom. Ask your children for feedback on different activities, see how they respond to different techniques and materials and play to their strengths. Many children love to learn through practical activities, for example.
Talking about mental health
Mental health is an integral component of good overall health, but it often gets overlooked. Many of us know how to protect our bodies, but we're unsure how to nourish our minds. We also seek advice for physical health problems, but we're usually reluctant to reach out if we experience symptoms of mental illness. Talking about mental health with your children is beneficial for the whole family. Mental health is something we all have. Even if you have good mental well-being, you can be proactive in promoting health and happiness.
Good communication can help to facilitate openness and let children know that they can talk about how they feel. Take time to chat at the end of the day, ask your kids how they are, and let them know that you're there to listen if they have any worries or concerns or they need advice or a shoulder to cry on. It's also important for adults to seek help and advice if they need advice or they want to talk. Speaking to a therapist or opening up to a partner, close friend or family member can help to reduce the severity of symptoms of stress, anxiety and depression. It's also crucial to remember that support is available. There are many treatments and therapies that can be used to improve symptoms.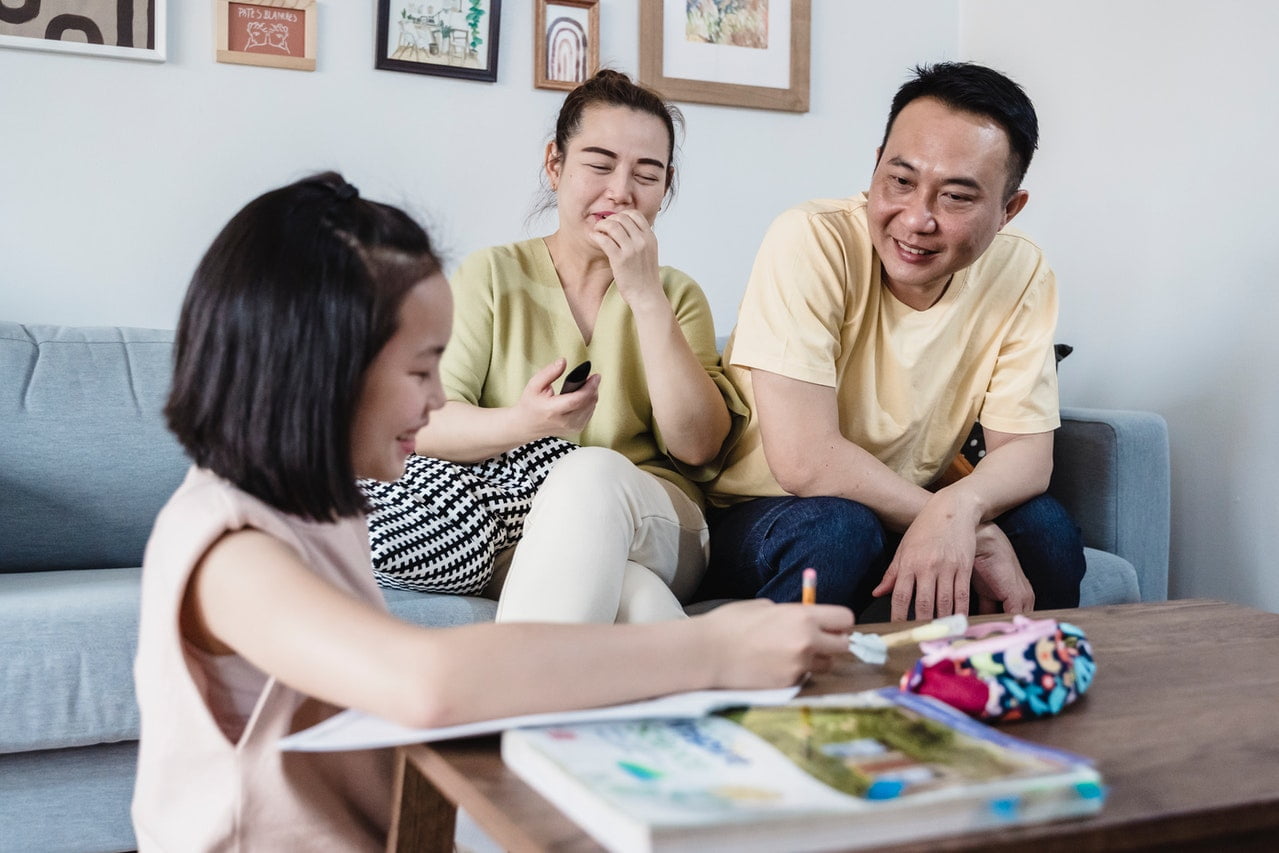 Picture from https://www.pexels.com/photo/a-girl-showing-her-homework-to-her-parents-8055086/
Spending quality time together
A lack of time is a problem that many families experience. If you have a busy schedule, it's difficult to find time to spend together and you may feel that you're under pressure to fill every minute you do have with fun. Try to manage your diary so that you have time to hang out together as a family. Plan fun activities, outings and vacations, but don't feel that you have to be on the go all the time. Sometimes, there's nothing better than a lazy family brunch on a Sunday morning or snuggling up on the couch on a Saturday night with a movie. Make the most of the time you do have by doing things that make you happy. From bike rides and leisurely walks to going to the beach or playing games in the garden or a local park, you don't have to turn every weekend into an extravaganza for kids.
Keeping up to date with tests and checks
One of the most important golden rules to follow when talking about preventing health issues is to keep up to date with tests and checks. Make sure your children attend scheduled appointments and routine examinations and ensure that you make time to see your doctor or dentist if you're due a check-up. Screening tests and checks are designed to reduce risks and identify early warning signs. If you're behind, schedule appointments as soon as possible.
Healthy sleep strategies
Most parents will agree that a lack of sleep makes the challenge of looking after and raising kids more difficult. Sleep is a luxury for many parents. If you don't get enough sleep, try to establish routines for you and your children. Use your evenings to wind down as a family, enjoy activities that make you feel calm and give yourself time to rest and relax once your children are in bed. Try to set a bedtime and stick to it. Children need 8-12 hours of sleep per night and adults need 6-8 hours. Keep gadgets out of bedrooms and try to ensure that rooms are dark and quiet. It's also beneficial to avoid sugar and caffeine in the evenings.
Image via https://pixabay.com/photos/sleeping-child-napping-girl-teddy-1311784/
Raising healthy, happy kids is a daunting, difficult challenge, especially if you're busy and you're always on the go. There's a lot of pressure to be the perfect parent, but you don't have to overhaul your lifestyle. There are some very simple ways to boost health and well-being. Try to be as active as possible, eat well and help your kids to learn and develop. Spend quality time together, have fun and avoid putting too much pressure on yourself. Keep up to date with tests and checks, talk about mental and physical health and ensure that everyone has a sleep routine and time and space to relax and unwind.