Toddler's First Camping Trip!
As many of you know already we took Coop camping for the first time a few weeks ago. I would like to say it was 100% successful but I would be fibbing to you! While it was a great learning experience, I will definitely do a few things different for our next adventure. I was anxiety driven as this was the first time camping with a toddler. I wanted everything to be perfect and being the OCD individual I am thought I had it all figured out.
This post may contain affiliate links, which means if you make a purchase from my link I may make a small commission at no cost to you.
We picked a campground that had a few amenities such as spring well water and toilets. We are normally pack in and pack out campers but having a 2 year old changes things. We chose Cooper Creek Campground (yes it is our sons name to!) in the Chattahoochee-Oconee National Forest. The campground itself was wonderful and only $15 a night so not bad at all. There is a river that runs next to most of the sites but we chose one that you had to walk a little to. I didn't want to have to stress that Coop would constantly attempt to get in the water with the proximity of our site being too close.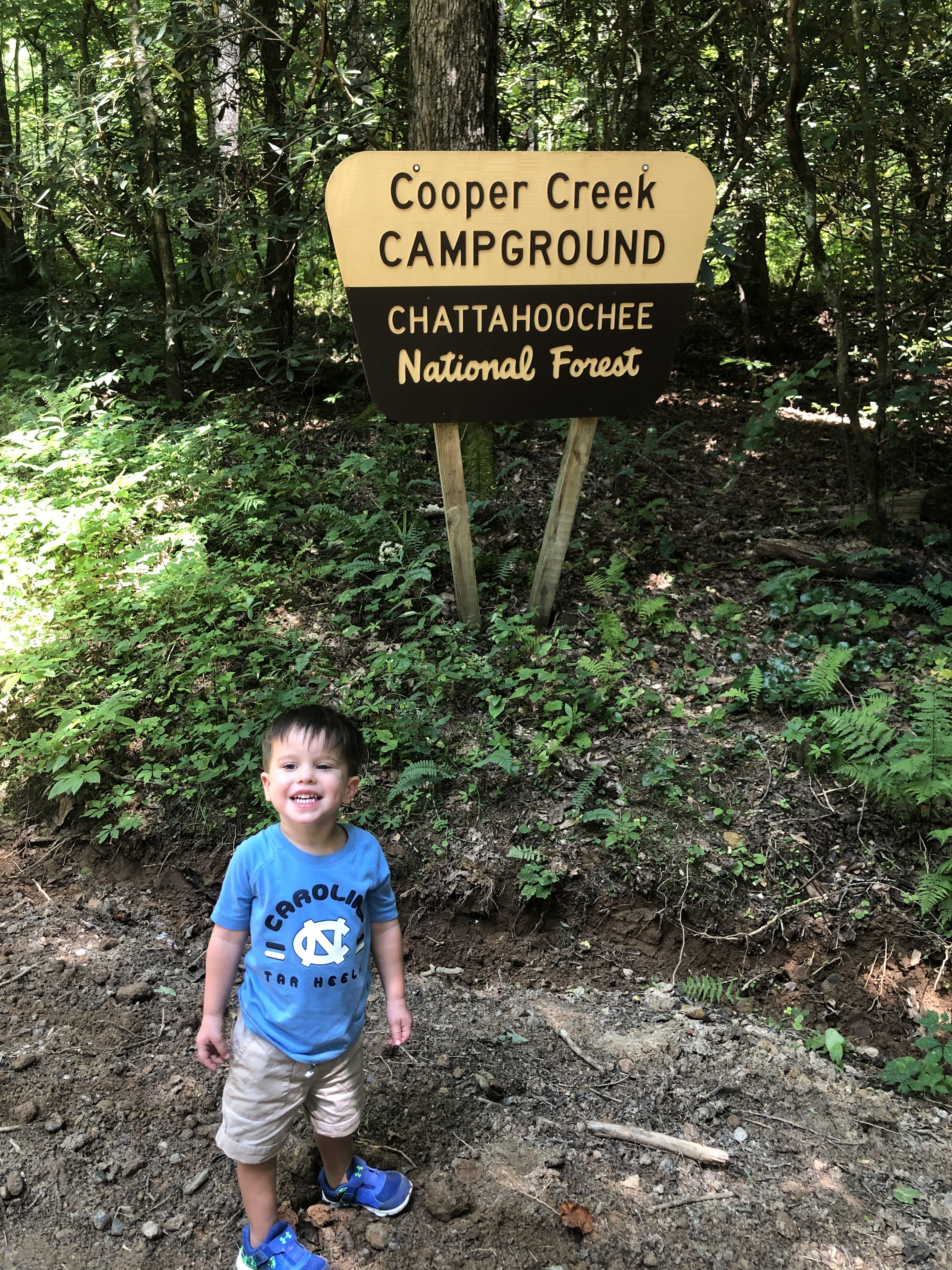 We took our usual equipment and that is where it went south, well kind of. We are Colorado campers and have Colorado gear not Georgia in the South gear. You see where I am going here? We did buy Coop his first sleeping bag and it worked wonderful for him. It is a rec bag and he picked it out so perfect. Our sleeping bags however are rated for 20° below. I will get to this though. We had chairs, camp stove, hammock, tent, sleep pads & a cooler. We packed MRM's that are super easy as well as coffee and our French Press. Lots of snacks for Coop and drinks to get us through the two days. We brought one day pack for hiking since there are trail heads everywhere at the campground. We didn't really pack any toys other than two monster trucks and his iPad with preloaded movies. We didn't bring fire wood from home and most National Forests ask you to buy local. We are still combating Pine Beetle and moving wood spreads it so please get your firewood local to the area you are in. We stopped at a little store 13 miles from the site and they had plenty of firewood for $6 a bundle.
The campground is down an old dirt road and I was happy we had the Subaru Outback! Of course it handled the ruts and holes like a champ and after a few miles we were at our site. It took us about 20 minutes to get setup and ready to start our adventure!
The beginning of the day we spent at the river. The water was refreshing and Coop played until he was shivering and we had to take him out, unwillingly by him of course. Daddy taught him to skip rocks and that turned into him throwing rocks bigger than him, but he had fun doing it. The second half of the day we went exploring. We hiked the Cooper Creek Trail which is a 1.7 mile out and back. The trails hadn't been walked in a while it seemed and we found wonderful items for Coop to learn about. His best find was an empty snail shell. About the size of a quarter, he thought it was a dinosaur! He has a great imagination and being in nature definitely engages it.
After hiking we came back to camp and showed Coop how to shower in the wild and he also has mastered the "country pee". Did I mention we are potty training too so perfect time to camp haha.
Anyhow, I am a huge fan of Mountain House Meals and this go around tried the Beef Stroganoff with Noodles. Have to say, it isn't my favorite. The meals we have had in the past have all been good, but this one needed so much salt & pepper and it still was odd. I will stick with the lasagna and chicken and rice in the future.  Their desserts are great too the apple crisp being my favorite! I know a lot of people bring food in foil packs etc and in the past I did but I have learned simple is best! These are quick to make and gives me a chance to spend more time enjoying the trip than working.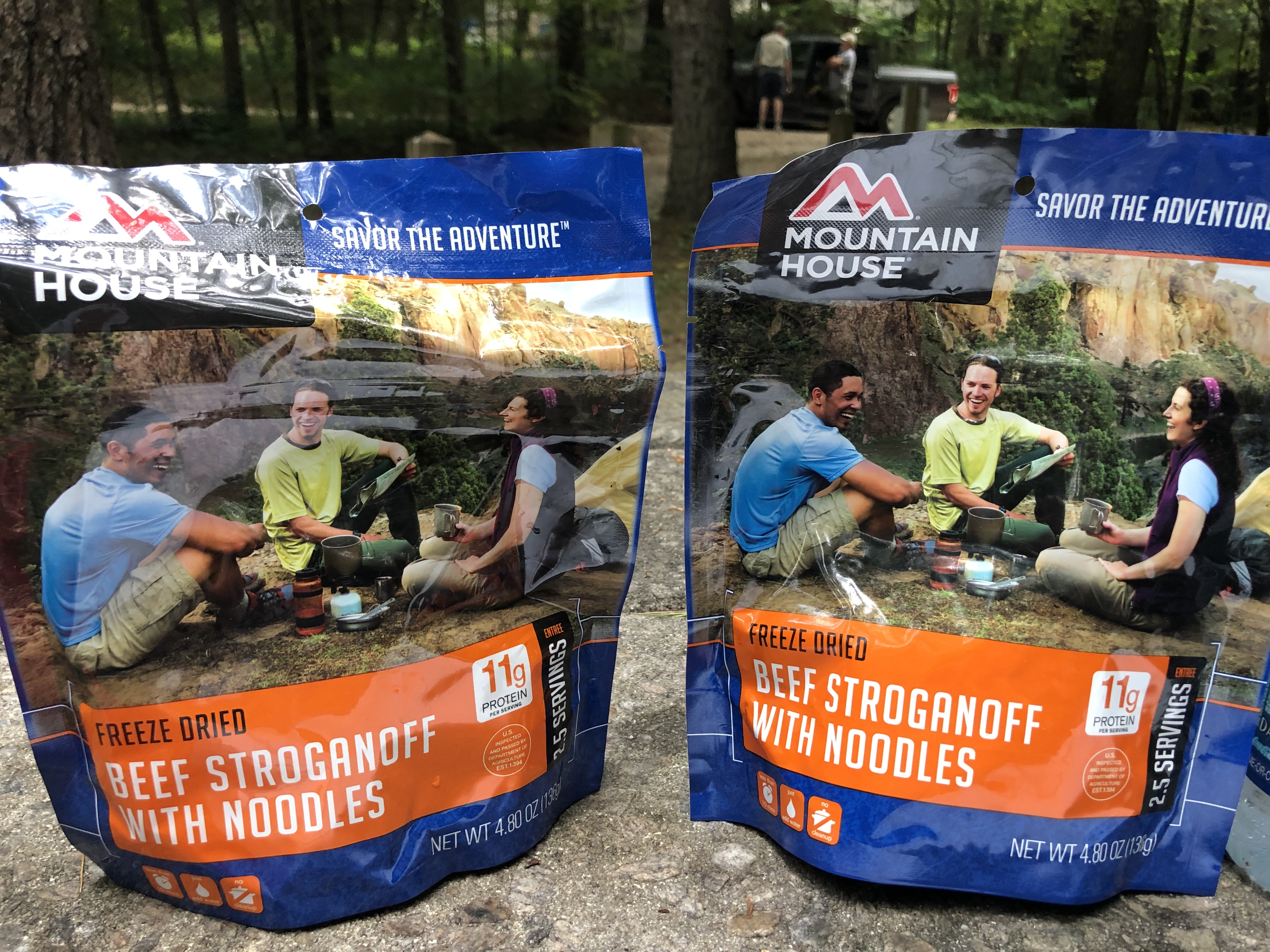 Coop was very excited to sleep in a tent so I made him comfy and set his iPad up to watch Dana Dino! His current favorite dinosaur show! Well 2 hours later he was still watching his show and we realized he wasn't going to sleep unless we did. We made our way into the tent and reality hit. Dorothy we aren't in Colorado anymore and holy hot in this tent! And guess who didn't bring a fan! It was 70° outside and the tent had to be 80° easy. We had the rain fly off and everything was well vented but there wasn't enough air moving through. Everything was sticky. Our sleeping bags meant for cold weather were unbearable and we knew there would be no sleep for any of us.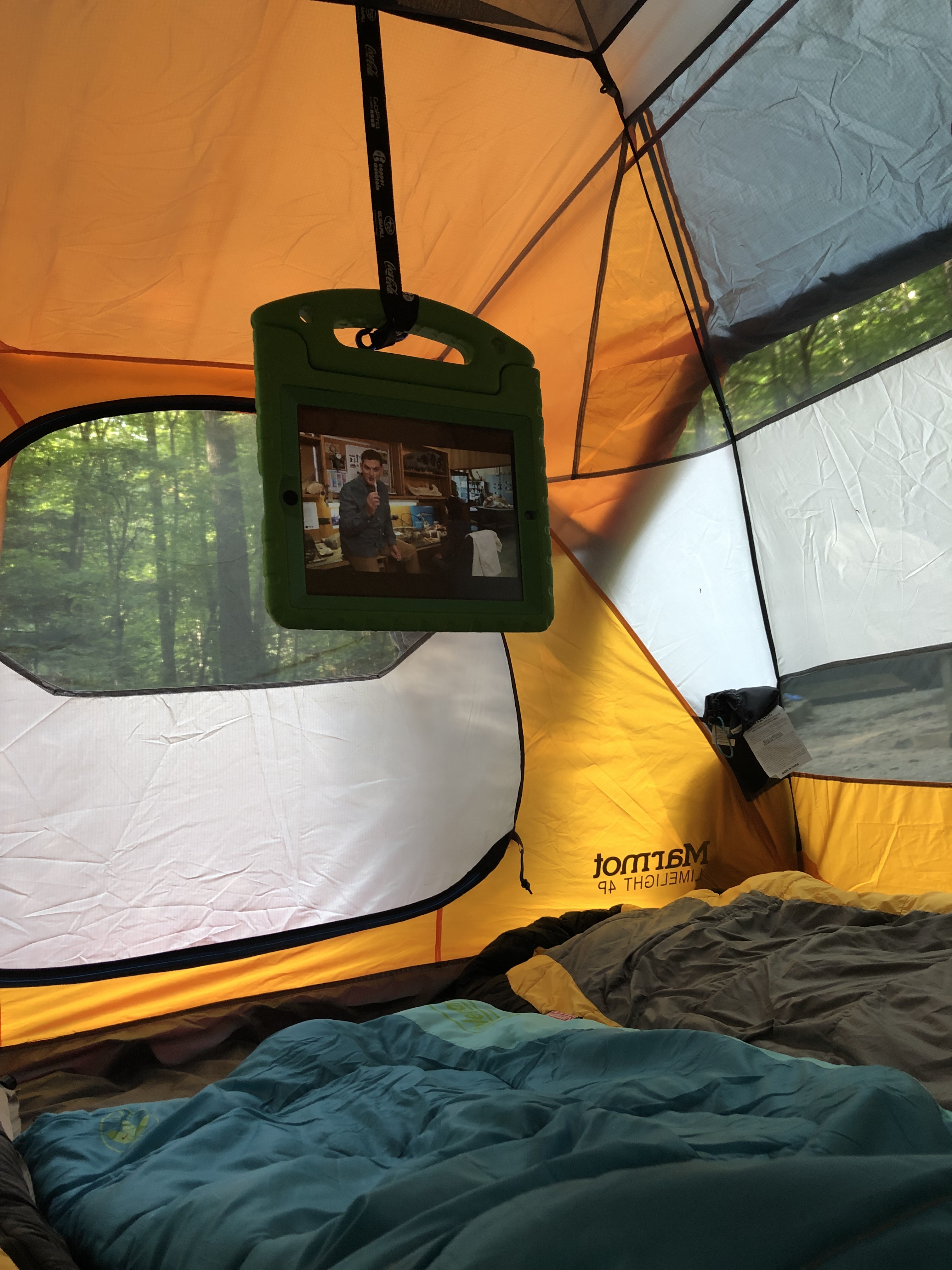 After laying on a sticky sleeping bag for an hour we made the decision to pack up and head home at around 10:00p. Fortunately we had a head lamp and a lantern so light wasn't a problem. We turned the car on and put Coop in the AC while daddy and I packed it up. Because we pack lite and well are pretty darn good at this camping thing, we had everything in the car and ready to go in 15 minutes. Coop of course was sound asleep which made our decision to leave more justified. An hour and a half later we were putting a very sleep heavy toddler in his bed and we were able to relax and do the same.
All in all the trip was successful but we did learn a lot, bringing a fan being the number one! This is the fan I am getting for future trips. It has a camping lantern as well as strong airflow! We are also investing into recreation sleeping bags. I love Marmot sleeping bags and will probably end up with the NanoWave bags. Our tent is amazing, so much so we have a 2p and a 4p in the same model. I highly recommend the Marmot Limelight. It comes with a footprint and is super easy to put up and breakdown. We use the 2p when backpacking. I also always setup my ENO hammock! There is nothing better than a nap in a hammock and lil dude loved it!
So there's another adventure in the books for us and can't wait to try it again! I am happy we didn't pack lil man a ton of stuff and let nature be his playground. Camping wasn't really much different for us with a toddler and next time will be a 100% success I am certain.