Viva Las Vegas! Once A Gambling Mecca Now A Food & Show Scene
Las Vegas, sin city where what happens in Vegas, stays in Vegas. Well unless you are a travel writer and then it is a tell all!
My husband recently had a work trip and I tagged along for a few days. I have been to Vegas on numerous occasions and have watched it transition into a food lovers paradise and some of the best shows you will ever see! This trip did not disappoint one bit!
This post contains affiliate links to products. We may receive a commission for purchases made through these links.
Lets start with the good stuff! FOOD! I had the pleasure of dining at SUSHISAMBA and when I say pleasure I truly mean it. This is possibly the best meal I have ever had in my 46 years on this earth! SUSHISAMBA is a culmination of three countries; Japan, Brazil and Peru. The creativity is limitless and wow did we go on a taste bud journey! My husband ordered the Omakase which is a Japanese phrase for Chef's choice. We started our 6 course meal with Edamame followed by Crispy Taquitos with Japanese Wagyu truffled tofu crema, shichimi ponzu, next was the best sea bass skewers with a corn similar to hominy, followed by a rib-eye tobanyaki that was on a bed of seasonal vegetables, black truffle and sesame shichimi, next up was Sashimi A5 Japanese Wagyu that had gold flakes! Next was a hot stone experience called Ishiyaki that was once again accompanied by wagyu and a variety of dipping sauces. We finished our meal with a chocolate banana cake with maple butter, plantain chip and vanilla run ice cream as our first dessert. Our second dessert was sata andagi which is dolce de leche japanese doughnuts, red fruit coulis and citron ice cream!
[foogallery id="3982″]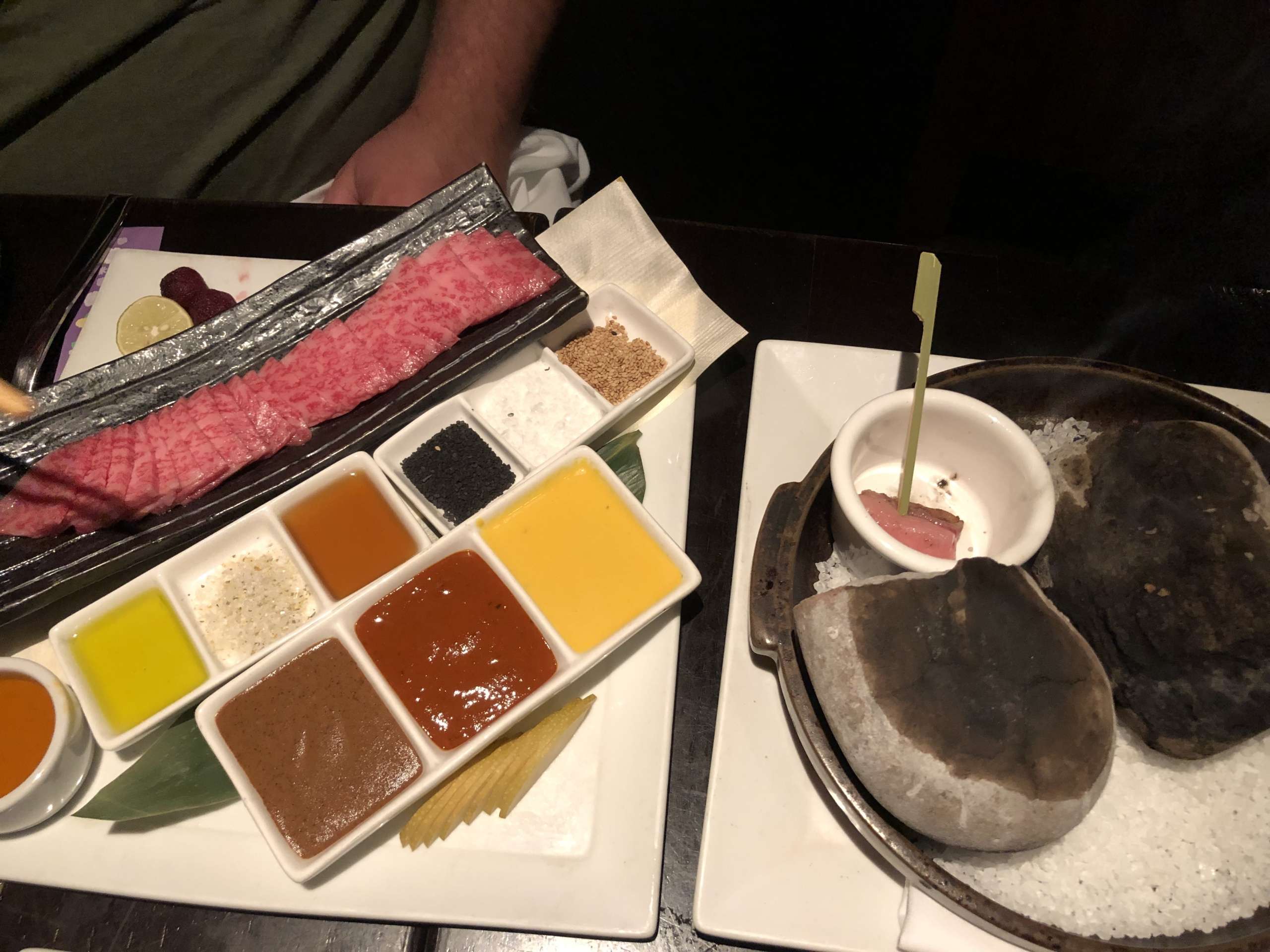 Heath and Jason (coworker) introduced me to Caipirinha's which is the national drink of Brazil. I chose to be functional however and drank the Samba Juice which is raspberry and passion fruit rum, crème de banana shaken with açai, fresh watermelon, passion fruit purée and guava. Served tall and topped with Prosecco. After 2 of those I was a happy camper!
I will tell you about the other meals but this was a show stopper and if you ever get the chance to visit one of their locations, do so! You will not be disappointed!
During our stay I also dined at Buddy V's which was amazing! Blacktap where I had the largest "shake" of my life and Joe's Seafood, Prime Steak & Stone Crab. The Espresso Martini's at Buddy V's are to die for! Ohh and the desserts of course! It was our anniversary and his birthday so cannoli's were in order!
Another must do is Aubi & Ramsa Alcohol Infused Ice Cream! You can get boozy ice cream which is perfect at any part of the day! I tried the Pina Colada and White Russian and both were super yummy! During the day we wandered while the guys were working and stumbled on Canonita for lunch. I had a salad since we were eating so heavy at dinner and the mixed drinks were tasty. I seriously ate so much in the three days I was there I didn't need to eat for a month when I got home!
[foogallery id="4013″]
We walked the strip the second night there and wow! Since the legalization of marijuana you can not escape it. There was an aroma of cigarette smoke, marijuana and urine that did not make for a pleasant experience. It is unfortunate really as it was not that bad prior. You can stay off the strip by walking through the casinos but the cigarette smoke will still get you.
We visited the usual spots that every first timer should do. The water show at the Bellagio, the statues at Caesars and the volcano show at The Mirage. The show stopper was Mystere! Mystere is a Cirque du Soleil show that combines high energy acrobatics & imagery that thrills audiences of any age. there are over 65 dancers, singers, musicians and champion acrobats. I was tickled for my husband and friends to see the show for their first time and it was enjoyed by all. I have been fortunate to enjoy several of Cirque's shows and can't wait to take him back for another.
[foogallery id="3983″]
We stayed at the Palazzo at The Venetian Resort and it is one of the nicer resorts I have stayed at. Our room was spacious with a sunken living room and a huge bathroom! Side note, do not lift anything out of the mini bar/snack area! YOU will be charged! Take a look at my Instagram for more on that! We had a decent view of the mountains and the strip. Their pools are beautiful and though a pricey few hours, several drinks were enjoyed!
Though a short trip for me it was packed with food and fun! I am good for about three or so days in Vegas and this was perfect! Ohh Iron Man was at the airport so of course I had to take a photo for my little one!
Thank you Delta airlines for a great trip once again. I know you are slowly coming back to First Class offerings and I can't wait! I still believe Delta's First Class is one of the nicest and best ways to fly for long trips. You get a lay down seat which is perfect since I left Vegas at 6:00a! I was able to sleep and feel "refreshed" when my driver picked me up in Atlanta. For a limited time AMEX has great points on Delta for new card holders! Follow the link AMEX Offers for more details.  Thank you Coach with Coach Luxury Limousine Service for always being amazing and your stellar car service! It is so nice to not have to drive after a long flight!
[foogallery id="4020″]
If you have never been to Vegas or are going soon, I hope you find inspiration here and happy travels!